Life is sublime at the Teton Pines happy hour.
On a whim, we drove five miles south of Teton Village to the Teton Pines Club House in January. For more than a week we kept passing the sign advertising a happy hour. Curiosity finally overcame us and we decided to go. Admittedly, we were not overly expectant.  After all, Teton Pines is a country club – not the sort of thing my wife and I usually plan on going to when we visit Jackson Hole.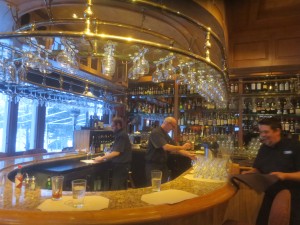 But from the moment we walked in and found our way to the bar tucked into the back of the clubhouse we realized we had found something special. The huge glass windows looking out on a beautiful landscape perfectly showcase both past and present snowfalls. The bar is small and cozy; especially if you arrive before 5:00 p.m. and the extremely friendly bartenders have time to engage in conversation.
The drink menu had some great combinations. My wife and I ordered a hot cider combination and our friends enjoyed a chocolate flavored concoction. But for those who aren't looking for something quite so sweet there are plenty of other possibilities along with the normal top shelf liquor found at a well-stocked bar.
But the clear winner was the happy hour menu. Seven different appetizers, each sounding better than the other, will tempt you. We ordered three:
Crispy Buffalo Chicken Bites;
Trio of meatball Sandwiches; and
Mini Fish Tacos.
Not only were they delicious, the portions were surprisingly large – and the price was right – $7 -$9 each. Four of us were satiated from eating those three choices.
Happy hour is only available Wednesday through Saturday from 4:00 p.m. to 6:00 p.m. Unfortunately, it is only offered during the winter. Hopefully, that policy will change for the summer folks.
On this web site, I only write about places I have enjoyed and will return to. Yesterday I went back again.  This time the four of us ordered five different appetizers and then ordered repeats of two of them. Needless to say, we were not disappointed. Check it out at Teton Pines.